Director & Visiting Professor, Chair for Christian Studies and Research, University of Calicut.
Dean, Department of Theology, Marymatha Major Seminary, Trichur.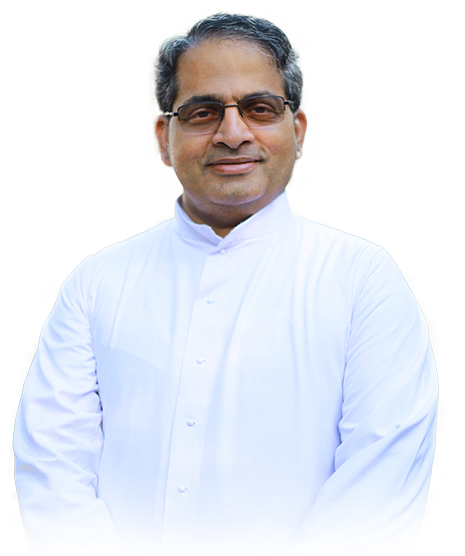 Director, Chair for Christian Studies and Research, University of Calicut.Resident Professor, Marymatha Major Seminary, Trichur.
Marymatha Major Seminary, Mulayam, Ayyappankavu P.O., Trichur 680751
Kerala, India.
Dr Paul Pulikkan, a priest of the Archdiocese of Thrissur in Kerala, is the Director and Visiting Professor of the Chair for Christian Studies at the University of Calicut and Dean, Department of Theology at Marymatha Major Seminary, Trichur. He also teaches at Institute of Theology, Trichur. He is the Chief Editor,  Eastern Journal of Dialogue and Culture and a research Guide at the Faculty of Social Sciences Mahatma Gandhi University, Kottayam and member of the International Board of Revue d'histoire ecclesiastique – Louvain Journal of Church History. For doctorate in Theology from KU Leuven, Belgium he specialized on the Indian Church's Participation at the Second Vatican Council. He is the author of several books and articles. He is a member of the research projects, The Second Vatican Council – Heritage and Mission, Vallendar, Germany and History of the Desire for Christian Unity, Bologna, Italy. He had been Visiting Scholar, at Catholic University of Leuven in 2001 and 2016. He has given lectures in many foreign universities (Chichester, Tuebingen, Marburg, Paderborn, Oxford, Institute of Religious Studies, Bologna).
He was a Project fellow in The Lived History of Vatican II, research project of the Cushwa Center, University of Notre Dame, Indiana, US. He was also associated with the project of Pontifical Committee for Historical Sciences, Rome,  Archives of the Fathers of the Ecumenical Second Vatican Council (Coordinator for the Archives of Syro Malabar Bishops). He was a member of the International research project under the patronage of the International Federation of Catholic Universities on Vatican II: historical event and stakes involved for today.
He received Erasmus Mundus India To Europe (EMINTE) scholarship of the European Union (2016).
He has been examiner of PhD thesis in several universities (Aligarh Muslim University, Sri Vinayaka Mission University Salem, Mysore University, Kamaraj University, Madurai).